Chicago Bears conduct Mini-Monsters Training Camp at Quest Academy.
This past Tuesday, the Chicago Bears Mini-Monsters youth training camp visited Quest Academy, along with former Bear and Mayor of Palatine, Jim Schwantz to emphasize the importance of physical fitness and physical activity.
Chicago Bears staff, along with Quest parent volunteers, conducted age-appropriate, indoor agility and tackling drills.  Each Quest child was given a Mini-monsters T-shirt and unlimited smiles for 90 minutes.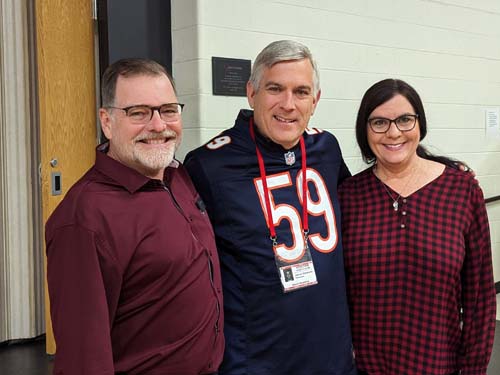 Outgoing Head of School, Brian Frank, Palatine Mayor & Former Chicago Bear Jim Schwantz and Dr. Vicki Phelps, Incoming Head of School at Quest Academy.